WVPMA "Member of the Year"
The "Member of the Year" award is given annually to an individual recognized by their peers for their contribution to the WVPMA.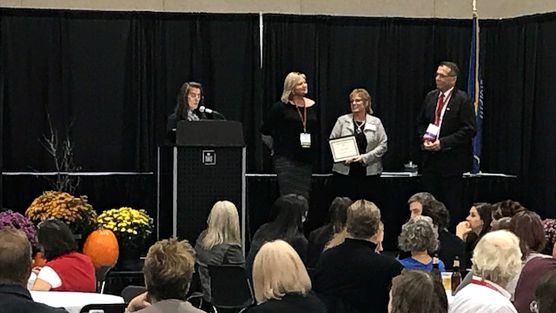 Congratulations to Jamie Holter of Dodgeville Veterinary Service on the 2017 Member of the Year Award!
Jamie has been practice manager of Dodgeville Veterinary Service for 17 years. She finds her job challenging and rewarding. She attends at least one national convention every year to sharpen her management skills and bring back valuable information and exciting new ideas. She also attends management meetings at the state level.
One of Jamie's many goals for the clinic was to have the clinic AAHA certified and she accomplished that task in six months through her leadership and motivated staff.
The Dodgeville Veterinary Service has been a beta testing clinic for Cornerstone for many years It requires Jamie to test and evaluate new versions of the software and Jamie is always excited to help improve the software program not only for her clinic but also all clinics that own that software. Jamie has even been asked to be a speaker and member of a panel discussion at the Idexx national convention for Cornerstone.
Jamie has made the "dreaded staff meeting" interesting with innovative and entertaining agenda items. She has transformed Dodgeville Veterinary Clinic into a "Fear Free" clinic with 12 of the employees Fear Free Certified. There has been a noticeable change in communication with the pets and "our employees are much happier not having to fight with our patients!"
Outside the clinic environment, Jamie is very active with her church, the Dodgeville Chamber of Commerce and other community events.
Her owner puts it best when he states, "I am very proud of Dodgeville Veterinary Service, we are constantly improving with changes to better meet the needs of our clients and our staff. Jamie is the underlying force in all of this, and I am most proud of her."
Congratulations Jamie and thank you for your leadership and dedication to the veterinary profession.
A special Thank You to Marshfield Laboratories for sponsoring our "Manager of the Year" award.